Public & Rural Expansive Conditional Acceptance Program
PRE-CAP at the School of the Dentistry aims to recruit and train post-baccalaureate students from or who have an interest in rural, tribal, and/or medically-underserved communities with the goal to increase access to dental care in these communities.
After completing three semesters of coursework with the support of direct mentorship and academic counseling, students who meet the academic standards gain admittance into the DDS program. Afterwards, successful graduates will continue their work in regions of the state for which there is limited access to oral healthcare services.
PRE-CAP is a pre-matriculation program which offers conditional acceptance to the School of Dentistry. The program is preparatory for both dental school and for providing rural and underserved dental care, with the ultimate goal of providing underserved communities with qualified, skilled clinicians who know and understand the lived experiences of the communities they will one day serve. 
Admission to the program places students on a five-year path to earning their DDS degree as long as conditions of acceptance and academic expectations are met.  
Applicants must qualify as part of a rural, tribal, and/or medically-underserved community (RTMU).

Rural

Either the student's high school address, current address, or childhood address must be located in a Utah zip code, city, or region defined by USDA as rural (RUCA score of 7 to 10). RUCA scores are available for review from the USDA website. 

Tribal

Recognized membership in a federally-recognized Tribal/Indigenous Nation or demonstration of strong interest in caring for tribal communities

Medically-underserved

Either the student's high school address, current address, or childhood address must be located in a Utah zip code, city, or region defined by HRSA as a medically-underserved area (MUA) or as a health professions shortage area (HPSA). MUAs and HPSAs can be review from the Utah Department of Health website. 

Priority consideration for PRE-CAP will be given to applications who meet certain socioeconomic indicators, such as historical and present utilization of federal and state programs, first-generation status, and commitment to practice dentistry in their home communities. 
A complete dental school application must be first submitted for the University of Utah School of Dentistry via AADSAS. For more information, please visit the DDS admissions section of our website. 
While there is no minimum GPA required for PRE-CAP, admission to the School of Dentistry requires a 3.00 GPA average on at least the last 60 credit hours of coursework. 
Students must enter the program with a bachelor's degree from a regionally-accredited institution in the United States and Canada.
Interested students may also qualify through demonstration of a particularly strong interest in caring for RTMU communities.
This three-semester program has been specifically designed to address common deficits and barriers with which RTMU students struggle. Successful completion of the program indicates preparedness for dental school and thus conditional acceptance is offered.
A PRE-CAP tuition scholarship, cost-of-living stipend, and possible first-year scholarship will be provided to account for financial burden. 
Completion of three semesters of coursework at the University of Utah beginning in the fall semester subsequent to your application period
Demonstration of academic success by earning no lower than a "B" letter grade in all courses you take as part of the program, satisfactory engagement in all courses (as determined by the program director), and maintaining at least 90% attendance with no unexcused absences
Participation in a long-term extracurricular project, the details of which will be agreed upon with the program director
Submission of an academic success plan, developed with support from the program director
Completion of a fall and spring performance review
Submit a complete application to the University of Utah School of Dentistry via AADSAS by October 1.
If you believe you would be a good fit for PRE-CAP, you can contact the program director by email to declare your interest. This will not affect your dental school application and due consideration for your admission into the traditional four-year DDS program will be given. 
Admissions decisions will be released in accordance with AADSAS policy in December. 
If you receive a rejection from or are waitlisted for the traditional four-year DDS program, and we determine you may be eligible for PRE-CAP, we will contact you with further instructions by March 1. You may be asked to complete an interview even if you already were interviewed by the admissions committee, and you will be asked to submit additional information for review. 
All slots for the program will be filled by May 1.
The program starts in August with the fall semester. 
The PRE-CAP curriculum blends in-person, online, and hybrid courses over three semesters.
Students will develop pre-clinical hand skills in operative dentistry courses, a strong health sciences background in the graduate-level courses from across the university, and academic success strategies in a series of seminar courses.
Courses specific to providing point healthcare in RTMU communities will be a significant focus of the curriculum. This includes understanding the social determinants of health, good patient communication, and addressing barriers to accessing healthcare common in RTMU communities. 
A cornerstone of the program includes development of academic skills such as study habits, academic system navigation, and community engagement. Structural requirements such as progress meetings, development of an academic success plan with an academic success coach, and a community engagement project are as important to success in the program as the coursework.
Participation in a long-term extracurricular project, the details of which will be agreed upon with the program director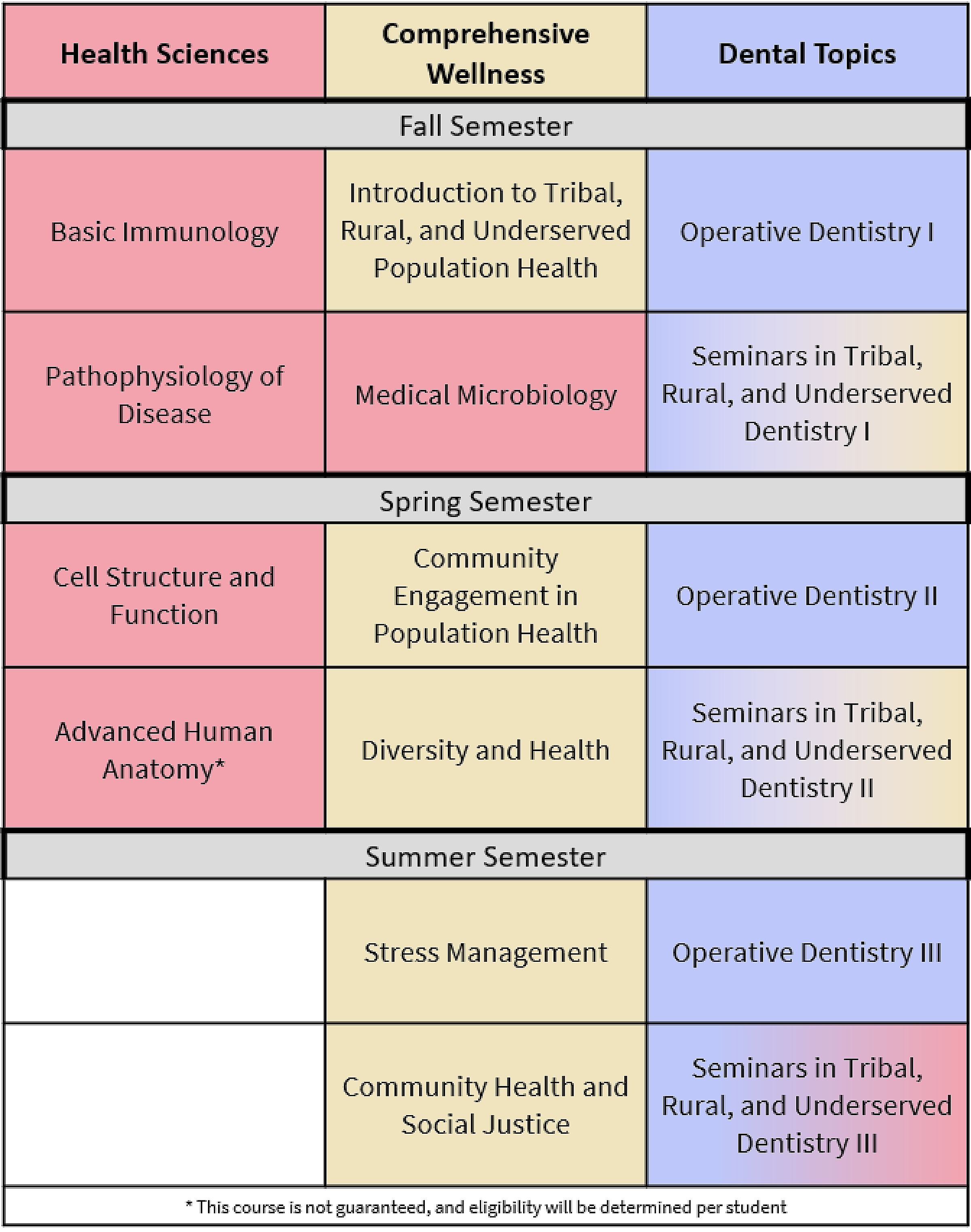 The program includes a cost-of-living stipend and tuition grant for the duration of the program. Additional scholarships may become available upon successful matriculation into the dental school. 
The University of Utah has both historical and contemporary relationships with indigenous peoples. 
We acknowledge that land in the Salt Lake Valley, which is named for the Ute Tribe, is the traditional and ancestral homelands of the Shoshone, Paiute, Goshute, and Ute tribes and is a crossroad for indigenous peoples. 

The University of Utah recognizes the enduring relationship between itself, indigenous peoples, and their traditional homelands. 
We are grateful for the territory upon which we gather; we respect Utah's indigenous people, who are the original stewards of this land, and we value the sovereign relationship that exist between tribal governments, state and federal governments.
Today, approximately 60,000 American Indian and Alaska Native peoples live in Utah. As a state institution, the University of Utah is committed to serving and partnering with indigenous communities throughout Utah through research, education, and community research.